Oklahoma City Thunder (59–23, Second Seed)
Points For: 106.2 (League Rank: 5)
Points Against: 99.8 (12)
Starting Five: Russell Westbrook, Thabo Sefolosha, Kevin Durant, Serge Ibaka, Kendrick Perkins
Leaders:
Points: Durant 32.0 (1)
Rebounds: Ibaka 8.8 (T-21)
Assists: Westbrook 6.9 (12)
PER: Durant 29.9 (1)
Playoff Experience on the Roster: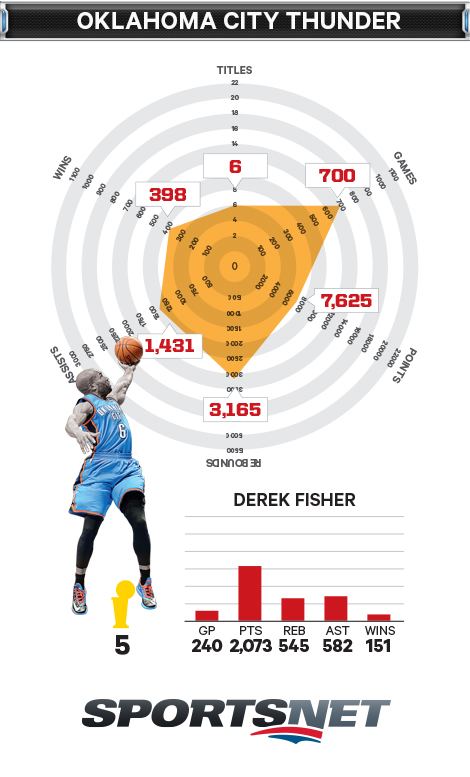 Key Reserve: Reggie Jackson. Sixth on the depth chart but fourth on the team in minutes per game (partly due to Westbrook's extended absences), Jackson provides a little of everything off the bench. He hits threes at a league-average-or-above rate at every spot along the arc, rebounds his position (his 3.9 boards per game were eighth among all point guards), and at six-three with a seven-foot wingspan (not a typo) he's big enough to defend most twos when playing alongside Westbrook.
X-Factor: Caron Butler. Since arriving from Milwaukee at the trade deadline in February, Butler has seen his shooting percentages climb—particularly from three. If he gets hot as he did against the Kings a little over a week ago (6-of-6 from three-point land) it's going to make it a lot harder for defences to ignore him in favour of sending an extra guy at Durant.
Breakout Candidate: Steven Adams. Early in the year the native of New Zealand (via Pitt) looked ready to finally, mercifully supplant Perkins in the starting lineup, but he tailed off hard mid-season. That said, he's been shooting 56.6 percent since the all-star break, and could provide valuable minutes if and when Scottie Brooks ever realises Perkins is useless to his basketball team beyond the fun fact that his headshot looks exactly like the Guy Fawkes mask from V for Vendetta.
Proof: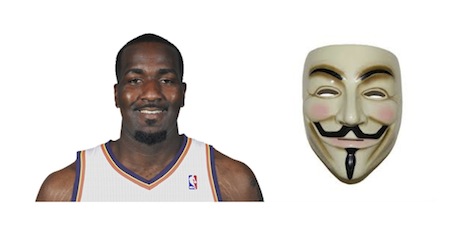 Memphis Grizzlies (50-32, Seventh Seed)
Points For: 96.1 (27)
Points Against: 94.6 (3)
Starting Five: Mike Conley, Courtney Lee, Tayshaun Prince, Zach Randolph, Marc Gasol
Leaders:
Points: Randolph 17.4 (T-42)
Rebounds: Randolph 10.1 (10)
Assists: Conley 6.0 (22)
PER: Conley 20.1 (28)
Playoff Experience on the Roster: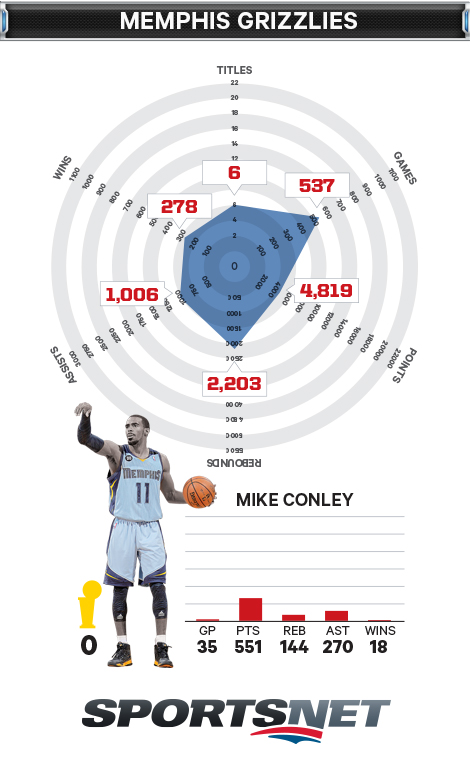 Key Reserve: Tony Allen. He lost his starting spot to make way for Lee's three-point shooting, but he finished the season having shot nearly 50 percent from the field (his highest rate in three years) while providing his customary steals and defensive toughness.
X-Factor: Pace. You know how they say the game slows down in the post-season? Well, the Grizz play like that all the time. The purveyors of Grit 'n Grind slow games down more than any other team in the league (89.9 possessions per 48 minutes) and work through their two plenty-capable bigs. They're more than ready for a little ugly playoff ball.
Breakout Candidate: James Johnson. Raptors fans will be familiar with the combo forward, but the world at large might not be—yet. For the Grizzlies to have a shot at slowing down Durant, the athletic and long-armed Johnson will need to play a big role with minutes to match.
Marquee Matchup 1: Durant vs. Prince
Oof. This is marquee based only on the strength of the first name—it pits the league's sure MVP against the weak link in Memphis's starting five. No one player can lock up Durant, but Prince (owner of a 108 defensive rating, 12th best on the team) will have particular trouble staying in front of him—he also lacks the requisite muscle to change any of KD's shots.
Marquee Matchup 2: Westbrook vs. Conley
This is more like it. A world-class clash of styles (Westbrook's maybe the most athletic point the game's ever seen, while Conley's more steady and understated play makes him one of the league's most underrated). Conley's coming off a season in which he piled up a career-high 17.2 points per game on 45 percent shooting (also a career high). Meanwhile Westbrook missed 36 games, but he put up 21.8 points in a career-low 31 minutes per. So it's not like he's lost a step.
Season Series: 3–1 Oklahoma City
Prediction:
Don't let the 2-7 matchup fool you—this is about as tough a call as in there is in the league. The Grizzlies' record undersells them because of Marc Gasol's 23-game mid-season absence. They were 40-19 with him in the lineup, which translates into a 56-win team—a mark that would have put them in the fourth seed. Memphis beat OKC in five when the two teams met in the second round of last year's playoffs, but that was with Durant running on fumes as a solo act. He's playing at a higher level and has more help, and he'll find a way to pull this one out. Thunder in seven.
First-round playoff previews: Pacers (1) vs. Hawks (8) | Heat (2) vs. Bobcats (7) | Raptors (3) vs. Nets (6) | Bulls (4) vs. Wizards (5) | Spurs (1) vs. Mavericks (8) | Thunder (2) vs. Grizzlies (7) | Clippers (3) vs. Warriors (6) | Rockets (4) vs. Trail Blazers (5) |