Toronto Raptors (48-34, Third Seed)
Points For: 101.3 (League Rank: 13)
Points Against: 98.0 (7)
Starting Five: Kyle Lowry, DeMar DeRozan, Terrance Ross, Amir Johnson, Jonas Valanciunas
Leaders:

Points: DeRozan 22.7 (T-9)
Rebounds: Valanciunas 8.8 (21)
Assists: Lowry 7.4 (8)
PER: Lowry 20.20 (25)
Playoff Experience on the Roster: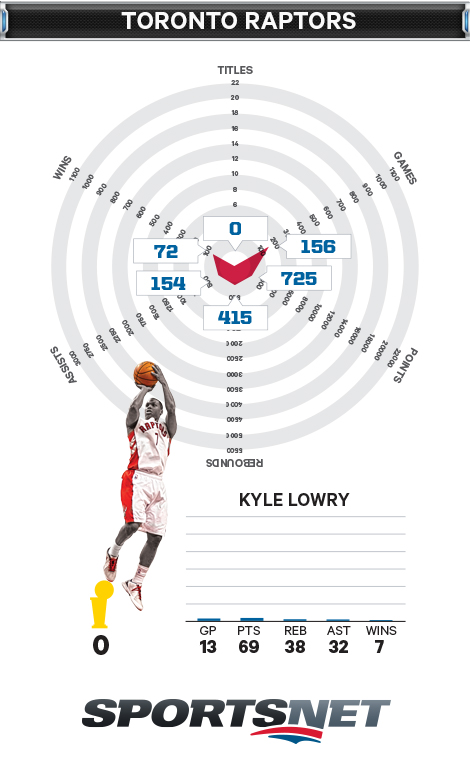 Key Reserve: Patrick Patterson. He's been a revelation since coming over from Sacramento, and his ability to both shoot from deep and defend the perimeter—where Brooklyn's forwards can be dangerous—will be crucial for the Raps. Plus, Patterson was not in the lineup for Toronto's two regular season losses to the Nets, but he was there for both wins—singlehandedly winning one for the Raps with his end-of-game heroics in late January.
X-Factor: Valanciunas. When the Raptors big man is engaged and establishes himself in the post early and often, it adds an entirely different dimension to this team, and if he can keep up his stellar play in April (16.8 points and 11 rebounds per in eight games) JV could absolutely be the difference-maker in this series.
Breakout Candidate: Ross. A valuable three-and-D guy with crowd-pleasing hops, there's not much to dislike about Ross, whose seamless transition to the starting lineup after the Rudy Gay trade has quietly been one of the bigger reasons for the Raps' success this season. Plus, as we know from experience, Ross can ride a hot streak with the best of 'em.
Brooklyn Nets (44-38, Sixth Seed)
Points For: 98.5 (21)
Points Against: 99.5 (T-10)
Starting Five: Deron Williams, Shaun Livingston, Joe Johnson, Paul Pierce, Kevin Garnett
Leaders:

Points: Johnson 15.8 (T-51)
Rebounds: Andray Blatche 5.3 (T-68)
Assists: Williams 6.1 (T-14)
PER: Mason Plumlee 19.09 (42)
Playoff Experience on the Roster: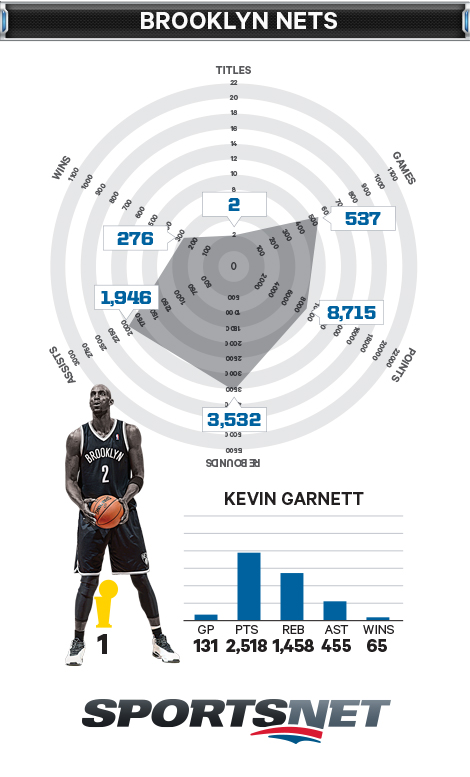 Key Reserve: Andray Blatche. Once the NBA's laughing stock—and not very long ago either—Blatche has finally discovered a place for himself as a versatile big off the bench. He's most valuable as a scoring threat for Brooklyn, but he's got some fire in his belly, too. When Terrence Ross mentioned he wanted to face Brooklyn in the first round during a web chat, Blatche fired back in an interview with the NY Daily News, saying "S—, you better be careful what tree you bark up. He better be careful."
X-Factor: Livingston. One of the best feel-good stories of the year has been the official return of Shaun Livingston, the one-time star prospect who blew out his knee and spent the next decade fighting his way back to the NBA. Beyond the cuddly storyline, though, it's easy to forget just how important the six-seven guard has become to the Nets as both a distributor and scorer. He'll always be able to get to the rim, but if his shot is falling, he adds another dimension—not to mention a spark—to Brooklyn's anaemic offense.
Breakout Candidate: Plumlee. Here's what we know about Mason Plumlee: He's friggin' huge—six-foot-11, 235 lb.—and is one of the best dunking big men around. But as his role increased throughout the year—from Brook Lopez's season-ending injury at the beginning of the season to buying rest for Garnett down the stretch—he played some incredibly effective basketball. In April, with only a slight increase in minutes, he's averaging 11.7 points and six rebounds on a crazy 79 percent from the field, compared to averages of just 6.5 points and 3.8 rebounds on 63 percent shooting over the previous five months.
Marquee Matchup 1: Joe Johnson vs. DeMar DeRozan
Though the Nets like to play Johnson at the three, as Brooklyn looks to use the size of their guards to their advantage, these two all stars will be matched up early and often. Johnson is a dangerous shooter and when he's on he can break a game open. He also uses his big frame to get good position closer to the hoop. But DeRozan, who is adept at that high post-ish game himself, is the real star here, having convincingly vaulted past JJ this season in the "imaginary shooting guard rankings" and claimed a spot as one of the NBA's deadliest scorers.
Marquee Matchup 2: Kevin Garnett vs. Amir Johnson
We're about to find out if all that rest this season—28 games off total—was worth it for the Big Ticket, who'll have his hands full besting Amir Johnson on either end of the court. Johnson may not match KG in intense facial expressions, but he's one of the few who can outwork him.
Marquee Matchup 3: Pierce vs. Ross
Let's put it this way, there'll be plenty of lessons for the Raptors' sophomore to pick up on picking up The Truth. Safe to say, Pierce will be more than happy to teach him.
Season Series: 2-2
Prediction:
Don't expect any blowouts here, as the green-yet-hungry Raptors try to overcome the experience of the Nets. Raptors in six.
First-round playoff previews: Pacers (1) vs. Hawks (8) | Heat (2) vs. Bobcats (7) | Raptors (3) vs. Nets (6) | Bulls (4) vs. Wizards (5) | Spurs (1) vs. Mavericks (8) | Thunder (2) vs. Grizzlies (7) | Clippers (3) vs. Warriors (6) | Rockets (4) vs. Trail Blazers (5) |