Los Angeles Clippers (57-25, Third Seed)
Points For: 107.9 (League Rank: 1)
Points Against: 101 (15)
Starting Five: Chris Paul, J.J. Redick, Matt Barnes, Blake Griffin, DeAndre Jordan
Leaders:
Points: Griffin 24.1 (6)
Rebounds: Jordan 13.6 (1)
Assists: Paul 10.7 (1)
PER: Paul 25.98 (6)
Playoff Experience on the Roster: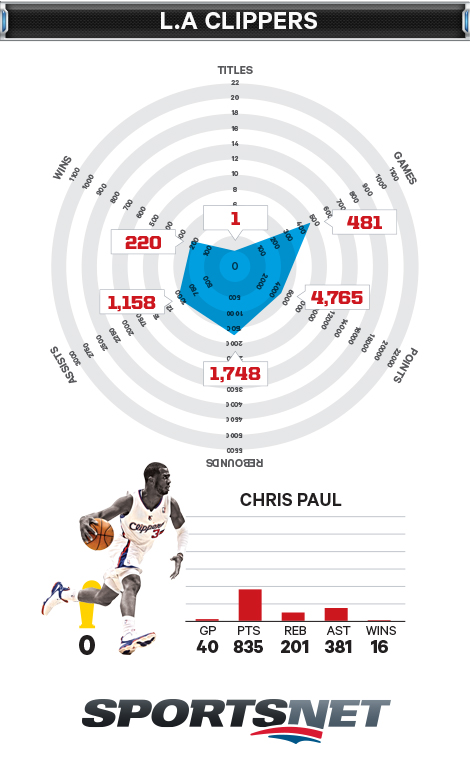 Key Reserve: Jamal Crawford. There aren't too many players in the league down to go shot-for-shot with Steph Curry in the closing minutes of a game. Crawford is definitely one of them. Averaging 18.6 points per game in a whopping 30 minutes a night off the bench, Mr. Sixth Man of the Year might be the most exciting player in the league with the ball in his hands.
X-Factor: Jordan. DJ pulls down four offensive rebounds a game (second overall behind Andre Drummond) and shoots 67.6 percent from the floor (also second, this time behind the Mavs' Brandan Wright). With Andrew Bogut out for the foreseeable future, Jordan should feast on the Warriors' interior D—unless Jermaine O'Neal finds a time machine
Breakout Candidate: Griffin. It's up for debate whether a player drawing MVP buzz can be labeled a breakout candidate, but to that I say, "Meh." Griffin absolutely killed it in CP3's absence this year, averaging 27.5 points, 8.2 rebounds and 4.4 assists and shooting 55.4 percent as the point man recovered from a separated shoulder. Paul remains the Clippers most important player, but under the bright lights of the playoffs, expect Griffin to prove he belongs among the league's elite.
Golden State Warriors (51-31, Sixth Seed)
Points For: 104.3 (10)
Points Against: 99.5 (T-10)
Starting Five: Steph Curry, Klay Thompson, Andre Iguodala, David Lee, Jermaine O'Neal
Leaders:
Points: Curry 24 (7)
Rebounds: Bogut 10 (T-11)
Assists: Curry 8.5 (7)
PER: Curry 24.13 (10)
Playoff Experience on the Roster: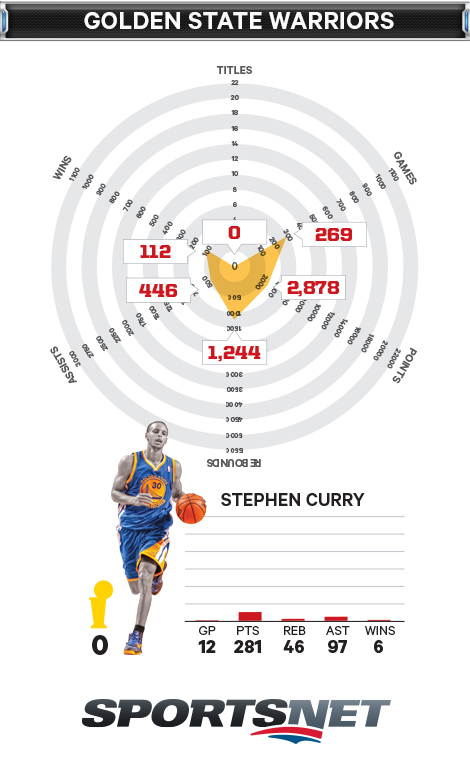 Key Reserve: Steve Blake. Acquired in a trade deadline deal with the Lakers, Blake's stats aren't going to blow anyone away (he's averaged 4.4 points and 3.6 assists per night with the Warriors). What he does have is 38 games of playoff experience and one hell of a ringing endorsement.
X-Factor: O'Neal. With Bogut out, head coach Mark Jackson has two options up front: go small—tough against the Clippers' combo of size and athleticism—or lean heavily on the 35-year-old legs of Jermaine O'Neal. O'Neal has the skills and experience to handle the load. Whether he has the body for it anymore remains to be seen.
Breakout Candidate: Iguodala. Golden State has a reputation as a high-scoring three-point machine, but they've actually been better on the defensive end of the floor this season. At 105.3 points per 100 possessions, they're just the 12th-ranked offence in the NBA, while their 99.9 allowed per 100 makes them third-best on D—a 10-spot jump from last season's squad. Iguodala is the biggest part of that improvement. If he can slow down the Clippers No. 1-ranked offence, he may just get some credit.
Marquee Matchup 1: Paul vs. Curry
If you're looking for an all-world point guard battle, it can't get much better than Chris Paul on Steph Curry. Both will carry their teams for stretches of this series. How well they hold up under the weight may make the difference in the end.
Marquee Matchup 2: Griffin vs. Lee
Averaging 18.2 points per game this season, Lee's offence is about all that prevents opponents from stacking all five defenders in front of Curry and Thompson on the perimeter. But his defence could generously be described as "sieve-like". Against Griffin, that should mean one thing: sweet, sweet dunks.
Season Series: 2-2
Prediction:
Curry and Thompson may get hot and shoot the Warriors to victory in a game or two, but the Clippers are a genuine title contender and with Bogut out, Golden State won't hold up over the long haul. Clippers in six.
First-round playoff previews: Pacers (1) vs. Hawks (8) | Heat (2) vs. Bobcats (7) | Raptors (3) vs. Nets (6) | Bulls (4) vs. Wizards (5) | Spurs (1) vs. Mavericks (8) | Thunder (2) vs. Grizzlies (7) | Clippers (3) vs. Warriors (6) | Rockets (4) vs. Trail Blazers (5) |