San Antonio Spurs (62-20, First Seed)
Points For: 105.4 (League Rank: 6)
Points Against: 97.6 (6)
Starting Five: Tony Parker, Danny Green, Kawhi Leonard, Tim Duncan, Tiago Splitter
Leaders:
Points: Parker 16.7 (T-41)
Rebounds: Duncan 9.7 (T-12)
Assists: Parker 5.7 (T-20)
PER: Duncan 21.40 (21)
Playoff Experience on the Roster: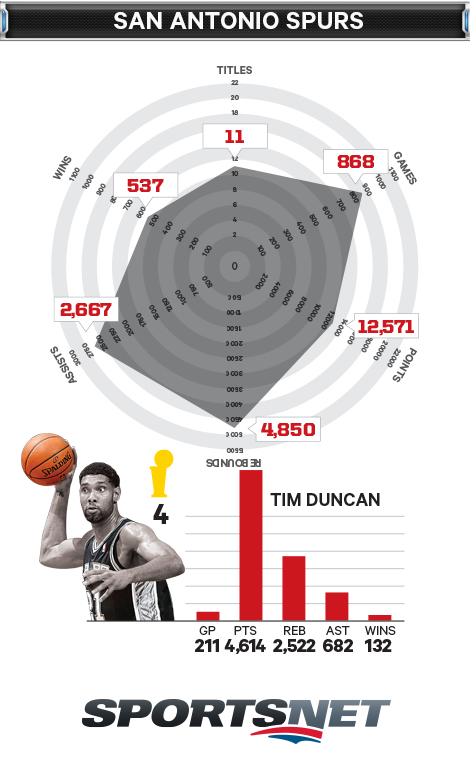 Key Reserve: Marco Belinelli. The former Raptor (and Warrior, and Hornet, and Bull) has fulfilled his destiny as a premier gunner off the bench, hitting 43 percent of the four threes he takes per game. He's cooled off since leading the league in made threes for the first half of the season, but a hot-shooting night or two from Stallone Belinelli may be enough to tilt the series.
X-Factor: Tony Parker's back. The club has taken pains to give Parker plenty of opportunities to rest as the regular season waned, but issues with nerves and discomfort in the back could continue to flare up and don't take much at all to trigger—especially considering the amount of time Parker spends among the trees down low. Patty Mills and Cory Joseph are admirable backups who can even help the Spurs past the first round, but there's no question they need a healthy Parker to live up to their status as title favourites.
Breakout Candidate: Danny Green. We saw in last year's playoff what a difference a big outing from him makes. And with another playoffs like 2013's under his belt, the former second-round pick will be a household name.
Dallas Mavericks (49-33, Eighth Seed)
Points For: 104.8 (8)
Points Against: 102.4 (T-19)
Starting Five: Jose Calderon, Monta Ellis, Shawn Marion, Dirk Nowitzki, Sam Dalembert
Leaders:
Points: Nowitzki 21.7 (T-12)
Rebounds: Dalembert 6.8 (T-42)
Assists: Ellis 5.7 (T-20)
PER: Nowitzki 23.68 (T-12)
Playoff Experience on the Roster: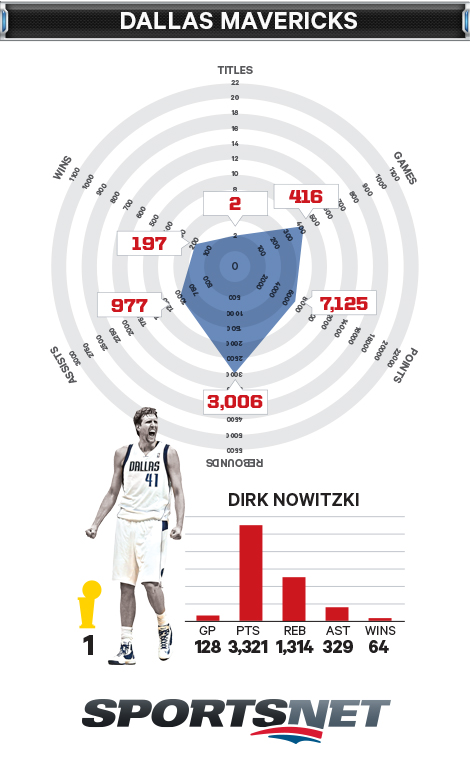 Key Reserve: Brandan Wright. The former NCAA champion with UNC and eight-overall pick in 2007 has taken a while to establish himself in the NBA. But on this Mavs team, Wright has proven absolutely essential coming off the bench. He ranks just one spot behind Dirk at 13th in the NBA in player efficiency rating, and though he only averaged one block per game during the regular season, Wright is a total defensive presence around the basket, critically important considering the size and strength on the Spurs front line.
X-Factor: Vince Carter. Dirk will get his. Monta, too. But because the team relies so heavily on those two for production, whomever of the Mavs' many candidates—Marion, Calderon, Carter, Devin Harris—provides that tertiary scoring threat can make the difference. Throughout the season, however, that role has fallen on the broad shoulders of Carter, who scored 12 per game off the bench and always finds himself on the court in the clutch.
Breakout Candidate: Ellis. He's been around for awhile, and even had his time near the top of the NBA's scoring leaders, but nothing gets a player exposure quite like the playoffs. Ignoring his disastrous stint with the Bucks in the 2013 post-season, Ellis has truly found his niche in Dallas as a creator and facilitator working off of Nowitzki. For those who haven't caught too many Mavs games this year, they may not recognize this version of Ellis.
Marquee Matchup 1: Nowitzki vs. Duncan
Two of the greatest to ever play the game, there'll be a day not so far down the line when we look back at this era in amazement that we got to see two complete originals play at such a high level for so many years. Frankly, while their bodies likely tell them differently, these two have barely aged—at least in terms of their load-bearing roles and statistical production. Expect the Spurs to switch on defence to keep Duncan closer to the hoop, but these two will undoubtedly be centre-stage all series.
Marquee Matchup 2: Ellis vs. Parker
You'd be hard-pressed to find two quicker guards in the league—not just in terms of baseline-to-baseline speed, but also in their ability to go from beyond the arc to the basket in the wink of an eye. Both are electric offensive forces and below-average defenders, so that'll be fun.
Season Series: 4–0 Spurs
Prediction:
There'll be plenty of times when this series has the look and feel of a Conference Finals, and while Dirk, Monta and the Mavs are stronger than your typical eight seed, I gave up on second-guessing the Spurs a long time ago and fully expect them to win it all this year. Spurs in five.
First-round playoff previews: Pacers (1) vs. Hawks (8) | Heat (2) vs. Bobcats (7) | Raptors (3) vs. Nets (6) | Bulls (4) vs. Wizards (5) | Spurs (1) vs. Mavericks (8) | Thunder (2) vs. Grizzlies (7) | Clippers (3) vs. Warriors (6) | Rockets (4) vs. Trail Blazers (5) |