Houston Rockets (54-27, Fourth Seed)
Points For: 107.8 (League Rank: 2)
Points Against: 103.1 (23)
Starting Five: Patrick Beverley, James Harden, Chandler Parsons, Terrence Jones, Dwight Howard
Leaders:
Points: Harden 25.4 (5)
Rebounds: Howard 12.3 (4)
Assists: Harden 6.1 (T-14)
PER: Harden 23.51 (14)
Playoff Experience on the Roster: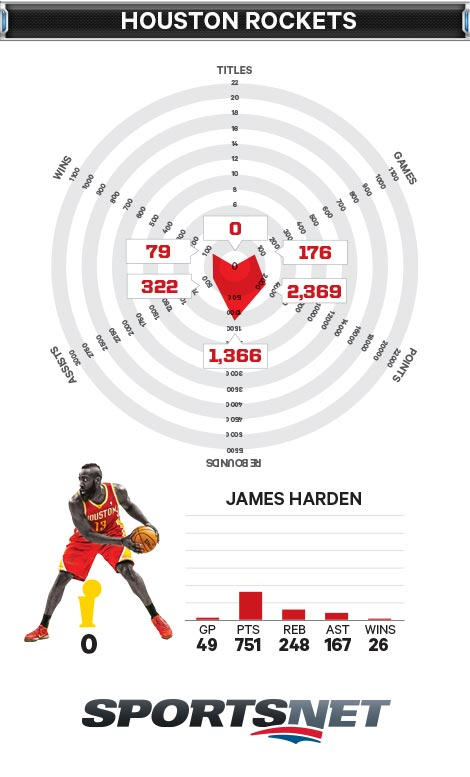 Key Reserve: Omer Asik. Believe it or not his 14.1 rebounds per 36 minutes were a career high, and although he only played 20 minutes per game in the regular season, expect that to increase as the Rockets look to slow down LaMarcus Aldridge.
X-Factor: Beverley. His defence is his calling card, but when Beverley's shot is falling, generally speaking the Rockets win (44.6 fg%/39.6 3pt% in wins vs. 32.4/24.6 in losses)
Breakout Candidate: Howard. Because his exodus from both Orlando and Los Angeles over the past two seasons left such a gross impression on fans, Howard's public stature plummeted. But while we were all busy (justifiably) hating on the guy, he put together a monster year and could see his profile recover with a strong playoff run.
Portland Trail Blazers (53-28, Fifth Seed)
Points For: 106.7 (3)
Points Against: 102.7 (22)
Starting Five: Damian Lillard, Wes Matthews, Nicolas Batum, LaMarcus Aldridge, Robin Lopez
Leaders:
Points: Aldridge 23.2 (8)
Rebounds: Aldridge 11.1 (7)
Assists: Lillard 5.6 (22)
PER: Aldridge 21.86 (19)
Playoff Experience on the Roster: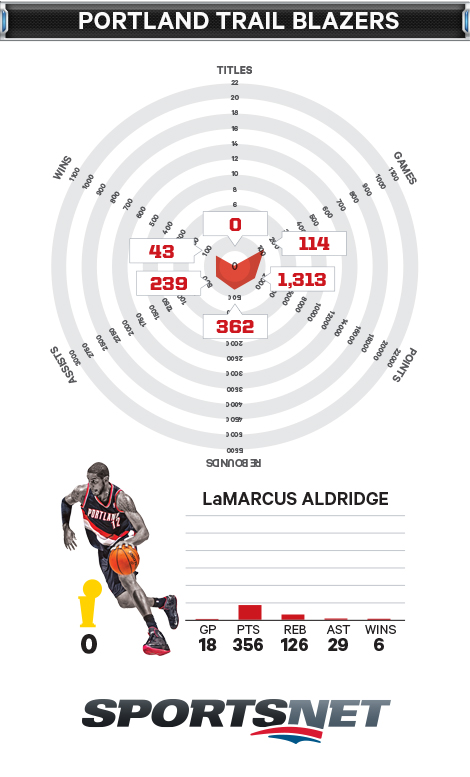 Key Reserve: Mo Williams. Not too long ago, Williams was the starting point guard and second leading scorer on an NBA Finals team in Cleveland. The veteran PG has found a nice role off the bench in Portland, averaging nearly 10 points, five assists and one steal in 25 minutes per game.
X-Factor: Batum. Sometimes he looks like a superstar, other times, well… not so much. But when he is active and involved in the offence—a higher usage rate (16.7%) and more assists (5.3 per game) in wins—Batum is a total difference maker.
Breakout Candidate: Thomas Robinson. With the Blazers thin in the frontcourt, Robinson, the former No. 4 pick who famously led the Kansas Jayhawks to a national title game in college, will get the chance to finally prove he was worth the hype.
Marquee Matchup 1: Lillard vs. Beverley
In his second season and appearing in his first playoffs, Lillard has already made his mark on both the Blazers franchise and the NBA as a dynamic scorer with solid point guard skills and a flair for the clutch. But across the court will be one of the biggest pests in the league in Beverley, a much less heralded player whose efforts on the defensive end earned him a starting gig this season.
Marquee Matchup 2: Aldridge vs. Howard
These two bigs have very different games—Aldridge's touch from mid-range is a counter to Howard's ability in the paint and on defence—and although they won't start against one another, matchup issues on both sides (undersized Terrence Jones for Houston and plodding Robin Lopez for Portland) will let fans see these two all stars face off.
Season Series: 3-1 Houston
Prediction:
With similar playing styles on display from both teams, the difference will come down to the heroics of Harden and Lillard in crunch time. Rockets in seven.
First-round playoff previews: Pacers (1) vs. Hawks (8) | Heat (2) vs. Bobcats (7) | Raptors (3) vs. Nets (6) | Bulls (4) vs. Wizards (5) | Spurs (1) vs. Mavericks (8) | Thunder (2) vs. Grizzlies (7) | Clippers (3) vs. Warriors (6) | Rockets (4) vs. Trail Blazers (5) |