Indiana Pacers (55-26, First Seed)
Points For: 96.7 (League Rank: 24)
Points Against: 92.4 (2)
Starting Five: George Hill, Lance Stephenson, Paul George, David West, Roy Hibbert
Leaders:
Points: George 21.7 (12)
Rebounds: Stephenson 7.2 (T-41)
Assists: Stephenson 4.6 (33)
PER: George 20.17 (T-26)
Playoff Experience on the Roster: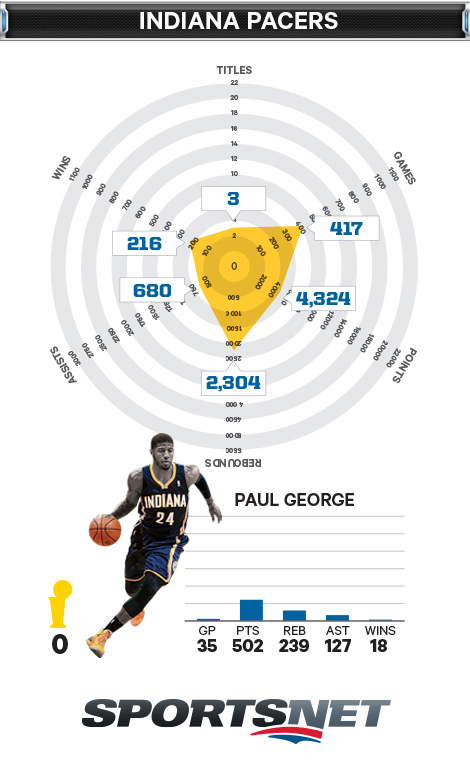 Key Reserve: Evan Turner. Brought in at the trade deadline from the 76ers in exchange for one-time franchise centerpiece Danny Granger, Turner plays an important role as a facilitator off the bench despite his history as a primary scoring option in Philly.
X-Factor: Stephenson (as if it could be anybody else). A big run from Stephenson could be the difference between the Pacers being a title contender and a second-round flameout. Stephenson is +14 in wins, -15 in losses.
Breakout Candidate: Hibbert. It still kind of feels like Hibbert has a lot of room for improvement, even after he established himself as maybe the dominant defensive post presence in today's NBA. For starters, how about grabbing more than seven rebounds a game?
Atlanta Hawks (37-44, Eighth Seed)
Points For: 100.9 (T-14)
Points Against: 101.5 (15)
Starting Five: Jeff Teague, Kyle Korver, Cartier Martin, Paul Millsap, Pero Antic
Leaders:
Points: Millsap 17.9 (T-29)
Rebounds: Millsap 8.5 (T-25)
Assists: Teague 6.7 (10)
PER: Al Horford 22.10 (18, but injured); Millsap 19.84 (32)
Playoff Experience on the Roster: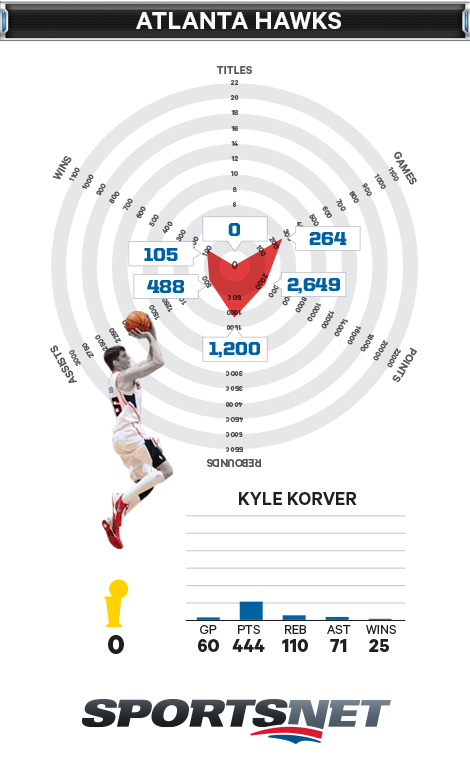 Key Reserve: Carroll. Carroll has gone from afterthought to an integral piece over the course of the season, acting as a utility knife, whether off the bench or in the starting lineup, providing the Hawks with a little bit of everything on both ends of the court. Plus, points for the 'do.
X-Factor: Lou Williams. He dropped 23 points in 22 minutes in Atlanta's big win over the Miami Heat last week, and while he's dealt with the aftereffects of a major knee injury all season, Williams looks healthy for the first time in ages—great news for basketball fans.
Breakout Candidate: Antic. Sometimes all it takes is one strong playoff series for a big man to get noticed and, though he won't blow you away with numbers (like, at all), Antic is a 32-year-old rookie who knows his role and fills it well. Remember, there's always value for guys who crash the boards and set hard screens.
Marquee Matchup 1: Paul Millsap vs. David West
Watching Millsap operate the mid-range game and use his sturdy-if-undersized frame to battle down low, you occasionally get the feeling that you're watching tapes of West in his all-star days with the Hornets.
Marquee Matchup 2: Paul George vs. The World
After cooling down following his breakout performance against Miami in the Eastern Conference Finals last season and a red-hot start to the 2013-14 campaign, many have started to question whether the Pacers star can live up to the hype that recently had him among the top-five players in the NBA. Look for George to prove his claim to the title of Best Two-Way Player Not Named "LeBron".
Season Series: 2-2
Prediction:
Without the scoring options needed against the Pacers' suffocating defence, the Hawks get bounced in the first round yet again and Indy moves past its late-season struggles with relative ease. Pacers in five.
First-round playoff previews: Pacers (1) vs. Hawks (8) | Heat (2) vs. Bobcats (7) | Raptors (3) vs. Nets (6) | Bulls (4) vs. Wizards (5) | Spurs (1) vs. Mavericks (8) | Thunder (2) vs. Grizzlies (7) | Clippers (3) vs. Warriors (6) | Rockets (4) vs. Trail Blazers (5) |