Here's what happened on Thursday on Matchday 7 of UEFA Euro 2016 in France, in case you missed it…
THE RESULTS
• Match report: England 2, Wales 1 in Lens || Match stats
• Match report: Ukraine 0, Northern Ireland 2 in Lyon || Match stats
• Match report: Germany 0, Poland 0 in Saint-Denis || Match stats
THOUGHTS ON THE DAY
Relief for England: England is top of their group after this dramatic come-from-behind win, the first time the Three Lions won a game at a major tournament after trailing at half time. What's the overwhelming feeling in the English camp right now? It has to be relief. England dominated Wales for the majority of the opening 45 minutes, but Gareth Bale's free kick from distance (that Joe Hart should have stopped) gave the Dragons the surprising lead. Roy Hodgson made two changes at the start of the second half, bringing on Jamie Vardy and Daniel Sturridge for Harry Kane and Raheem Sterling (who was dreadful in the first half). That double switch gave England an added edge, as they pressed forward with more purpose, forcing Wales to drop back deeper. Vardy scored with one of his first touches, the recipient of a fortunate touch by Wales' Ashley Williams that kept him onside. Wales hunkered down and defended resolutely, and were moments away from a draw that would have gave them control of their group going into the final round of matches. But Sturridge had other ideas, with the Liverpool man scoring a scrappy goal deep into injury time to give England the win. The English were better on the balance of play. But there's no doubt Hodgson will be relieved by Sturridge's late winner, as a draw would have had them sitting third and facing a must-win game against Slovakia. Now, they control their fate courtesy of a goal that reminds us it's a game of slim margins.
Northern Ireland shocker: Two games into Group C and already one team has been eliminated—and it's not Northern Ireland. Manager Michael O'Neill's side earned its first win at a major tournament in three decades, dispatching Ukraine 2-0 on a rainy evening in Lyon. That result, combined with Germany and Poland playing out to a 0-0 draw later in the day, officially eliminated Ukraine, and gave even more hope to Northern Ireland of getting out of the group as one of the four-best third-place teams—although their last match is against Germany who will be looking to win the group. Nevertheless, Northern Ireland has overachieved at this tournament, making up for a lack of quality and depth (compared to the other three sides in their group) by playing with spirit, confidence and a sense of fearlessness. Ukraine dominated the usual match statistics (including possession percentage and number of passes), but they never really troubled the Northern Ireland defence. At the other end, O'Neill's men made the most of their chances, with Oliver Norwood's cross that Gareth McAuley's winning header being the finest piece of skill produced on the day. Can they make it three valiant efforts in a row and upset the Germans? You wouldn't think so. But then, few gave them much hope of having this chance going into their final game.
Germany is not in crisis: Germany has never lost its opening game at the European Championship (seven wins, five draws), setting the standard for strong starts at this tournament. It's their second game, though, that's tripped them up in recent times. Losses were suffered against Croatia (in 2008) and England (in 2000), and a draw with Latvia (in 2004), while the Germans' 2-1 win over the Netherlands four years ago wasn't exactly convincing. This is standard fare for Germany, and while things didn't work out for them in 2000 and 2004, those were completely different teams than the current one. Nobody could look at Thursday's 0-0 stalemate against Poland and reasonably conclude that they're in trouble. True enough, the Germans dominated and dictated the pace of the game while it was Poland who carved out the better scoring chances, and really the Poles should have buried their opportunities. But Germany will take this—sitting atop the group with four points with their two toughest opponents out of the way, and facing upstart Northern Ireland in its final match. German manager Joachim Low has a few things to iron out, foremost among them how to get the best out of Mario Gotze. However, the German defence has registered two clean sheets and looked impenetrable—save for one or two lapses against Poland—and Low's side never looked to be in danger of dropping points at any juncture in their opening two games. It hasn't been perfect, but it doesn't have to be—few teams have ever won a major competition by going undefeated. The Germans are masters of "tournament management," and they've come to understand better than most nations the importance of pacing yourself at the European Championship and World Cup.
---
MORE ON EURO 2016: Sportsnet has you covered with in-depth coverage of Euro 2016 in France, which runs from June 10 to July 10.
• Match schedule || Group standings || Live scoreboard || Latest news
• Profiles: All 24 teams || History of Euro || Top 10 moments in Euro history
• Sportsnet's predictions || 10 players to watch || 5 key group stage games
• Feature stories || Soccer Central podcast || Team roster lists ||
---
GOAL OF THE DAY
In the 49th minute, Northern Ireland's Oliver Norwood delivered a teasing, curling free kick to the far post. Gareth McAuley snuck around the Ukrainian defence and powerfully headed it home.
SAVE OF THE DAY
Late in the first half, Steven Davis broke down the side off a Jonny Evans' short free kick and unleashed a blistering shot from a tight angle. Ukrainian goalkeeper Andriy Pyatov was alert to the play, though, and he expertly tipped Davis' shot over the crossbar.
MATCH OF THE DAY
Wales vs. England was sloppy at times with plenty of mistakes—Joe Hart's bundling of Gareth Bale's long-range shot being the prime example—but it was a tense affair played out before a boisterous crowd who provided a great atmosphere in Lyon.
THE GAME WITHIN THE GAME
Ukraine out-passed Northern Ireland, but couldn't outscore them:
BEST MOMENT OF THE DAY
Fans in Lyon paid tribute to Darren Rodgers, a 24-year-old North Irish fan who tragically died in France earlier this week, by standing and applauding during the 24th minute of the Ukraine-Northern Ireland match.
TWEET OF THE DAY
HE SAID IT
"I'm not a great statistics person, I don't even trust them, but we were on the ball so much today." – Roy Hodgson, England manager
SIX PACK OF STATS
• At 18 years and 228 days, Marcus Rashford is the youngster player to appear for England at the European Championship—four days younger than Wayne Rooney when he set the record at Euro 2004.
• The last time no Liverpool player scored for England at a major tournament was Euro 1996.
• Gareth McAuley is the first Northern Ireland player to score at a major tournament since Colin Clarke at the 1986 World Cup.
• Northern Ireland is the first British team to keep a clean sheet at Euro 2016.
• Germany has now drawn five games 0-0 in the group stages of the European Championship, more than any other team.
• After seven days and 18 matches, Euro 2016 has produced just one 0-0 draw.
Stats courtesy of Opta
BURNING QUESTION

3 STARS
1) Jamie Vardy and Daniel Sturridge, England: Both players revitalized the Three Lions after coming on at the start of the second half and scored the goals that ended up slaying the Dragons.
2) Gareth McAuley, Northern Ireland: He scored the opener and did a wonderful job of anchoring a back line that frustrated Ukraine.
3) Arkadiusz Milik: Germany carried the bulk of the play, but it was Poland who carved out the better scoring chances, and Milik was often at the heart of it.
TOURNAMENT SO FAR
•Matchday 1 recap: Magnificent Payet rescues France || Typical Giroud performance
•Matchday 2 recap: England gets what it deserves || Bale already proving his worth for Wales
•Matchday 3 recap: Modric pure magic for Croatia || Germany's Goetze not a false 9
•Matchday 4 recap: Spain's resolve sees them through || Italy's experience the difference
•Matchday 5 recap: Portugal blows it || The hoopla over Kiraly's pants
•Matchday 6 recap: It can be a cruel game at times || What was Deschamps thinking?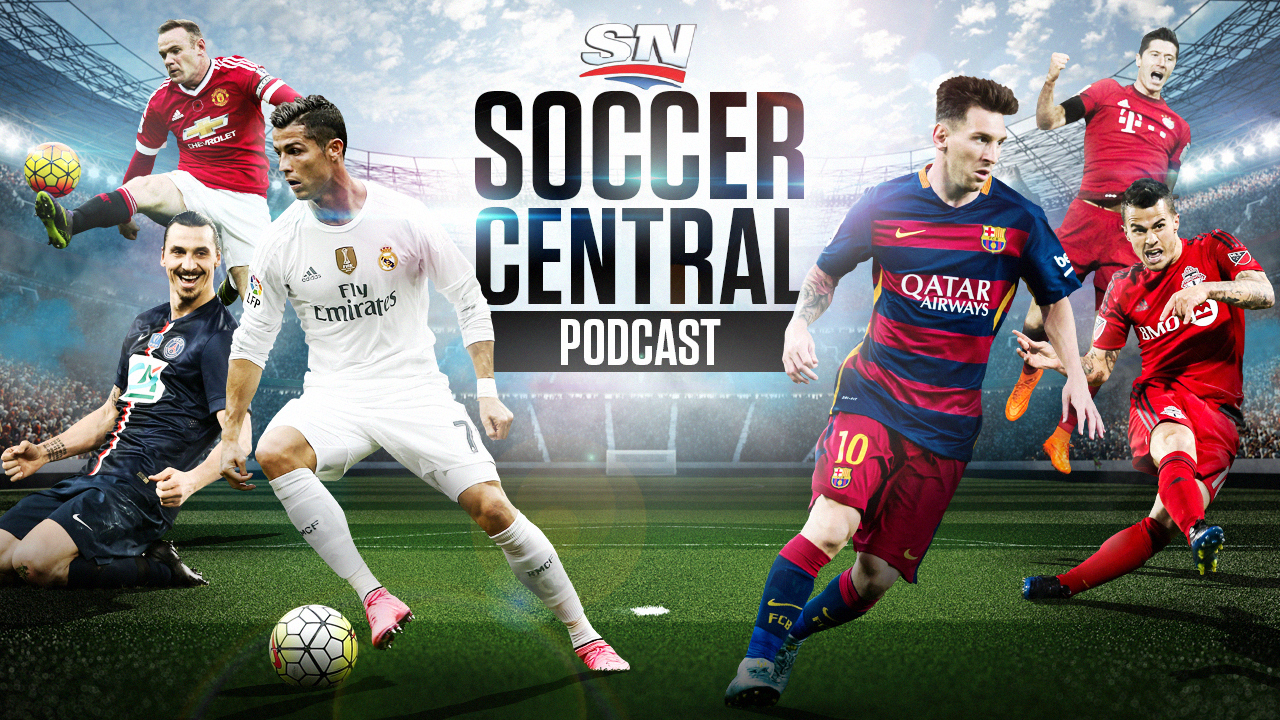 Sportsnet's Soccer Central podcast (featuring Thomas Dobby, Brendan Dunlop, John Molinaro and James Sharman) takes an in-depth look at the beautiful game and offers timely and thoughtful analysis on the sport's biggest issues.