Here's what happened on Friday on Matchday 8 of UEFA Euro 2016 in France, in case you missed it…
THE RESULTS
• Match report: Italy 1, Sweden 0 in Toulouse || Match stats
• Match report: Czech Republic 2, Croatia 2 in Saint-Etienne || Match stats
• Match report: Spain 3, Turkey 0 in Nice || Match stats
THOUGHTS ON THE DAY
It ain't pretty, but Italy gets it done: Look, Italy isn't terribly entertaining to watch, and it took a piece of individual brilliance from the much-maligned Eder in the 88th minute to propel the Azzurri to victory over Sweden after a pretty dire offensive display. But you can't argue with the fact they are an incredibly skilled team at managing games and being defensively organized. The results thus far speak to Italy's effectiveness: six points, zero goals conceded, and a second round berth secured with a game to spare—all this done against their toughest two group opponents. It's the Italians' best start to a major tournament since Euro 2000. Italy's defence was at its very best in Toulouse, keeping the Swedes in front of them (and not letting them even register a shot on goal) and cutting off service to Zlatan Ibrahimovic, who was anonymous on the day. The Juventus quartet of Gianluigi Buffon, Giorgio Chiellini, Andrea Barzagli and Leonardo Bonucci form the best defensive unit at this tournament, and have thus far made up for Italy's lack of creativity going forward. A word of caution: As brilliant as the Italians are in defensive transition, they're pretty bland when transitioning to the attack. The Azzurri are far too slow, predictable and plodding in their buildup play, and you have to wonder how'd they cope if they ever went down a goal, or how they will do against a high-calibre opponent in the knockout round. For the timing being, though, the Italians have put in two solid team performances, their impenetrable defensive posture proving too much for their opponents.
Croatia implodes: Thirteen minutes. That's all it took for Croatia to completely fall apart against the Czech Republic in Saint-Etienne. Sitting on a comfortable two-goal advantage courtesy of great goals from Ivan Perisic and Ivan Rakitic, and having completely bossed the game, the Croats looked a sure bet to claim another three points. But then they switched off, as Milan Skoda's header in the 71st minute—as expertly taken as it was—should have been better read and stopped by goalkeeper Danijel Subasic. Moments later, flares flooded the Czech Republic's end after Croatian supporters tossed flares onto the pitch. While stewards raced to clear them away, a loud firecracker was also thrown onto the field while Croatian fans fought amongst themselves on the terraces, heightening the already uneasy tension inside the stadium. Play was halted for several minutes so that things could calm down, but the Croatian players were clearly rattled. The Czechs were in the ascendency after the disruption and Tomas Necid equalized in the 89th minute from the penalty spot after Domagoj Vida was penalized for a handball. After the game, UEFA announced it will open disciplinary procedures against Croatia. It was also revealed that influential midfielder Luka Modric, who was subbed out in the second half with a muscle strain, has been ruled out for Croatia's final group game vs. Spain. Even with the draw, Croatia will still more than likely advance. There's no doubt, though, that the stoppage in play and fallout unnerved Croatia, with coach Ante Cacic describing the fans responsible as "sports terrorists." In speaking with reporters after the game, Perisic wondered aloud if it'd be wise for Croatia not to continue at Euro if it meant it would stop more non-sense from the Croatian fans to take place. It's hard to see UEFA taking the extreme measure of booting Croatia from the tournament, but Perisic's moment of candour certainly provided food for thought.
Spain the class of Euro: Three teams have a perfect 2-0-0 record at Euro 2016, but it is the Spanish, and not the French or Italians, who are the unquestionable class of this competition thus far. One of the many problems within sports media in the modern era is the rush to judgment—the rush for reporters and pundits to make bold proclamations and sweeping conclusions after one or two games. Sports writers, and fans, are too quick to have a go at a manager after a loss, and they're just as quick to suggest a corner has been turned or something has been achieved after a few positive results. The later will likely happen in the ensuing days after Spain's masterful dismantling of Turkey. All three goals were a master-class in sublime build-up play and ball movement, married to technical skill of the highest order. The third goal was the ultimate team goal, with every outfield player (barring Gerard Pique) getting a touch before Alvaro Morata finished it off. Back to the question that will be asked by pundits and fans alike: Is this the beginning of the resurrection of Spain? Honestly, it's far too early to tell. Things could go totally off the rails for Spain against Croatia next week in their final group game, and then we'd return to the same old queries of whether La Roja will ever return to the form they displayed during that amazing four year period from 2008 to 2012 when they were the best team on the planet and swept aside all challengers that appeared before them. What is clear, though, is that the disappointment of the 2014 World Cup in Brazil was an aberration for the Spanish. With these two wins, and they way they earned them, the Spanish have also sent out a message to Italy, France and Germany—that they are the team to beat at Euro 2016.
---
MORE ON EURO 2016: Sportsnet has you covered with in-depth coverage of Euro 2016 in France, which runs from June 10 to July 10.
• Match schedule || Group standings || Live scoreboard || Latest news
• Profiles: All 24 teams || History of Euro || Top 10 moments in Euro history
• Sportsnet's predictions || 10 players to watch || 5 key group stage games
• Feature stories || Soccer Central podcast || Team roster lists ||
---
GOAL OF THE DAY
It came very late in the Italy-Sweden game, but what an individual act of brilliance from Eder. Simone Zaza deftly flicked Giorgio Chiellini's long throw-in towards Eder, who then danced around the Swedish defence before firing a sublime shot past goalkeeper Andreas Isaksson and inside the bottom-right corner. It was a sublime finish by the Italian after making that sensational run.
SAVE OF THE DAY
It was slim pickings today, although Turkish goalkeeper Volkan Babacan did well in the seventh minute to turn Alvaro Morata's 25-yard drive around the post.
MATCH OF THE DAY
It wasn't competitive—quite the opposite. But you had to marvel at Spain and their buildup play in what was a marvelous team performance against Turkey.
BEST MOMENT OF THE DAY
After scoring for Croatia, Rakitic celebrated by pointing to captain Darijo Srna, who returned to France and back in the starting line-up just three days after attending his father's funeral—he died the same day of Croatia's win over Turkey earlier this week.
TWEET OF THE DAY
THE GAME WITHIN THE GAME
HE SAID IT
"I told [Antonio] Conte that he deserves credit, as I'd like to know who else would've bet on Eder the way he did." – Carlo Tavecchio, Italian FA president.
SIX PACK OF STATS
• Italy is unbeaten in their 12 competitive games under manager Antonio Conte (nine wins and three draws).
• There were just 12 shots attempted in the Italy-Sweden match, the fewest in a single game at the European Championship since 1980.
• Milan Skoda's goal was the first header scored by a Czech Republic player at the European Championship since Jan Koller scored vs. Turkey in 2008.
• Croatia has conceded more than once in a game at the European Championship for the first time since losing 4-2 to England in 2004.
• Sergio Ramos' yellow card vs. Turkey (after 58 seconds) is the fastest at the European Championship since Latvia's Aleksandrs Isakovs was cautioned after 40 seconds vs. Germany in 2004.
• Nolito is the 35th different scorer for Spain at the European Championship, the most in tournament history (one more than Germany).
Stats courtesy of Opta
BURNING QUESTION

3 STARS
1) Nolito and Alvaro Morata, Spain: The dynamic duo effectively linked up and tortured the Turkish defence—Morata bagged a brace, while Nolito scored one goal and set up another.
2) Ivan Rakitic, Croatia: Superb in orchestrating a lot of his team's attack from midfield, and he scored that delicate chipped goal.
3) Eder, Italy: The Brazilian-born forward had a very quiet game—until he went on that great run and scored with a brilliant finish in the 88th minute to lift Italy to victory.
TOURNAMENT SO FAR
•Matchday 1 recap: Magnificent Payet rescues France || Typical Giroud performance
•Matchday 2 recap: England gets what it deserves || Bale already proving his worth for Wales
•Matchday 3 recap: Modric pure magic for Croatia || Germany's Goetze not a false 9
•Matchday 4 recap: Spain's resolve sees them through || Italy's experience the difference
•Matchday 5 recap: Portugal blows it || The hoopla over Kiraly's pants
•Matchday 6 recap: It can be a cruel game at times || What was Deschamps thinking?
•Matchday 7 recap: English relief after beating Wales || You gotta love Northern Ireland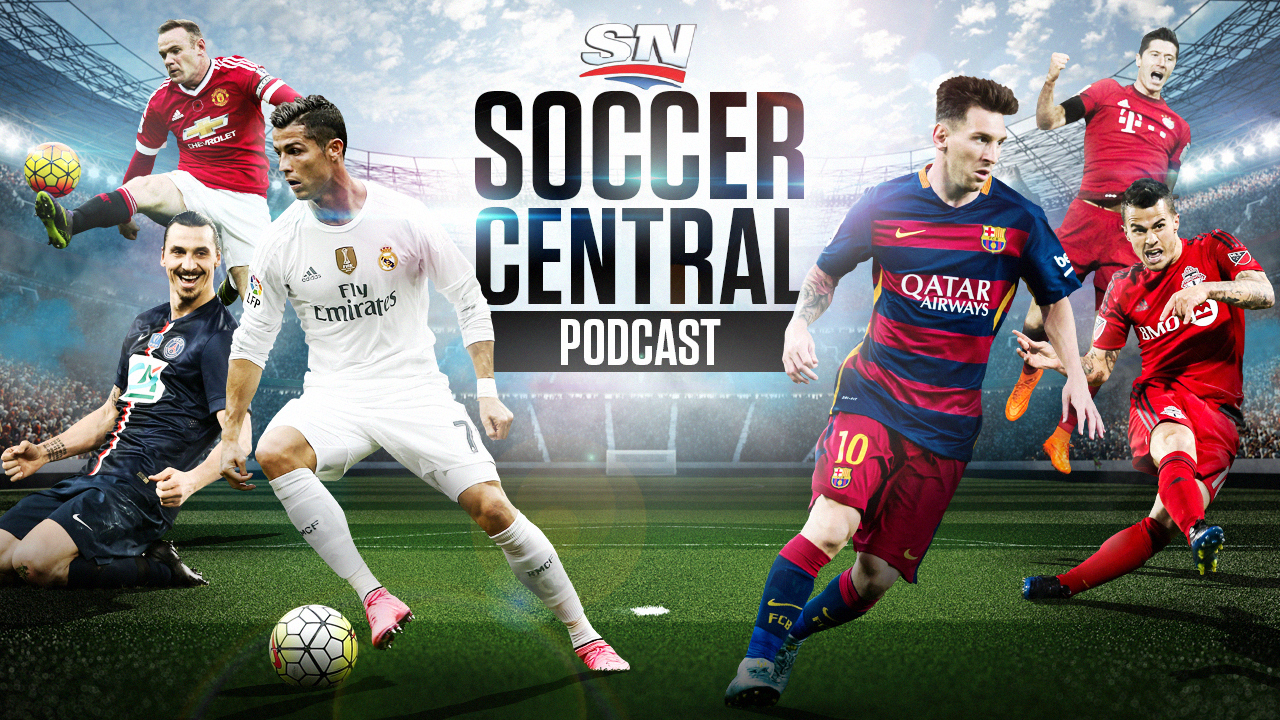 Sportsnet's Soccer Central podcast (featuring Thomas Dobby, Brendan Dunlop, John Molinaro and James Sharman) takes an in-depth look at the beautiful game and offers timely and thoughtful analysis on the sport's biggest issues.