Here's what happened on Tuesday on Matchday 12 of UEFA Euro 2016 in France, in case you missed it…
THE RESULTS
• Match report: Northern Ireland 0, Germany 1 in Paris || Match stats
• Match report: Ukraine 0, Poland 1 in Marseille || Match stats
• Match report: Croatia 2, Spain 1 in Bordeaux || Match stats
• Match report: Czech Republic 2, Turkey 0 in Lens || Match stats
THOUGHTS ON THE DAY
Beware of the Germans: Seven points, three goals for, no goals conceded, first place secured—just your average first round performance by Germany, who won their group with a pretty dominant performance against Northern Ireland on Tuesday. The score line rather flattered the Northern Irish (who advanced as one of the top third-place sides), as the Germans, in firm control at all times, put the hand brake on for most of the second half and didn't force the issue.
That's likely not going to sit well with the tough critics back home. Nor will the fact that the Germans didn't exactly win this group with a great deal of comfort—Ukraine played them tough in the opener, and Poland held the world champions to a draw. And what about Thomas Muller? The Bayern Munich star has 10 goals for Germany at the World Cup, but has yet to find the mark a single time for his country in eight games at the European Championship over the course of two tournaments.
Although it hasn't been terribly flashy by the Germans in France, it has been very effective. What's more, this is classic Germany—laying low in the weeds in the group stage before kicking it into high gear once the knockout round starts.
Historically, no national team has demonstrated a better understanding and application of the concept of "tournament management" better than the Germans—you need only look at their CV in international soccer. Hyper-criticism has become one the trademarks of the modern game. Each performance is over scrutinized, examined at microscopic levels and often crammed into a larger context or narrative that often doesn't apply.
As clichéd as it sounds, this is a marathon, not a sprint. The Germans get that. And the fact that they've advanced to the knockout stages without Muller scoring and without playing their best soccer indicates just what a quality side they are, and that the best is still very likely to come. Every other team in this tournament should be very afraid of the Germans.
Brilliant comeback by Croatia: And speaking of being afraid, Croatia has emerged from the shadows and made the instant transformation from tournament dark horse to a leading favourite after it incredible come-from-behind win over Spain.
The Spanish dissected the Croatians with a perfectly-worked team goal early on, and at that point you had to think the two-time defending European champions were off to the races and were going to cruise to victory. But the Spanish defence switched off just before half, allowing Nikola Kalinic to equalize. Ivan Perisic was the hero on the night, as it was his goal in the 87th minute that allowed Croatia to win the game and the group ahead of Spain.
Make no mistake about it: this is was a tournament-changing moment. Instead of a tricky, second-round matchup with Italy and a difficult path to the final, the Croats now get kicked over to the other side of the bracket where they will avoid the Italians, French, Germans, and Spanish. They might even avoid Portugal and Cristiano Ronaldo—it depends on how the Portuguese make out on Wednesday. Croatia's road to Paris is pretty clear. There are no major obstructions in front of them.
Beating the two-time reigning champions was impressive enough. But Croatia did it without the influential Luka Modric (out injured) and with the usually terrific Ivan Rakitic having a quiet game. This performance also came just days after the Croatians bottled it against the Czech Republic, throwing away a two-goal lead and settling for a draw. Of course, the nonsense off the field with a small minority of their fans causing problems in France has also been a major distraction in the fallout from that game, so full credit to Croatia for displaying the mental strength to battle back and put on such a wonderful display in defeating Spain.
---
MORE ON EURO 2016: Sportsnet has you covered with in-depth coverage of Euro 2016 in France, which runs from June 10 to July 10.
• Match schedule || Group standings || Live scoreboard || Latest news
• Profiles: All 24 teams || History of Euro || Top 10 moments in Euro history
• Sportsnet's predictions || 10 players to watch || 5 key group stage games
• Feature stories || Soccer Central podcast || Team roster lists ||
---
GOAL OF THE DAY
Spain scored one of the best "team" goals in the seventh minute vs. Croatia. After building out from the back, la Roja pressed forward and David Silva delivered a sublime reverse pass for Cesc Fabregas inside the box that carved open the defence. Fabregas knocked the ball across goal with a chip shot, and Alvaro Morara tapped it in. Beautiful.
SAVE OF THE DAY
Northern Ireland Michael McGovern came up huge early on against Germany. Mesut Ozil's flick pass released Thomas Muller clear on goal, only to see McGovern rush off his line to smother the goal scoring chance.
MATCH OF THE DAY
Croatia vs. Spain produced so much superb soccer and passages of skilled play, as well as late drama. The first two goals were something special, too. What a pleasure to watch. The game of the tournament thus far.
BEST MOMENT OF THE DAY
David Silva's pass to Cesc Fabregas in the buildup to Spain's first goal was brilliant:
THE GAME WITHIN THE GAME
TWEET OF THE DAY
HE SAID IT
"Everybody is always asking about Cristiano Ronaldo. I don't think he is the only world-class player on [Portugal]. We have to be compact, fight for each other, and be brave. It's not just about [Ronaldo]." – Hungary coach Bernd Storck speaking at a Tuesday press conference about tomorrow's match.
SIX PACK OF STATS
• Bastian Schweinsteiger is now Germany's all-time leader in appearances (15) at the European Championship.
• Only Jurgen Klinsmann (five goals) has scored more for Germany at the European Championship than Mario Gomez (four goals).
• Poland has reached the knockout stages of a European Championship tournament for the first time, after failing in 2008 and 2012.
• Petr Cech has conceded 21 goals at the European Championship, more than any other goalkeeper in tournament history.
• Tuesday marked the first time that Spain has ever lost a game at European Championship after having been ahead.
• Croatia's first half goal ended Spain's European Championship shutout streak at 735 minutes.
Stats courtesy of Opta
BURNING QUESTION

3 STARS
1) Ivan Perisic: The Inter Milan forward set up one goal and scored the winner in the 87th minute to propel Croatia to first place in Group D ahead of Spain.
2) Mesut Ozil: He put on a masterful performance with his passing ability against Northern Ireland, and had a hand in setting up Mario Gomez's winning goal.
3) David Silva and Cesc Fabregas: They were the engines that powered this Spanish midfield against Croatia, and they teamed up in setting up Alvaro Morata's goal.
TOURNAMENT SO FAR
•Matchday 1 recap: Magnificent Payet rescues France || Typical Giroud performance
•Matchday 2 recap: England gets what it deserves || Bale already proving his worth for Wales
•Matchday 3 recap: Modric pure magic for Croatia || Germany's Goetze not a false 9
•Matchday 4 recap: Spain's resolve sees them through || Italy's experience the difference
•Matchday 5 recap: Portugal blows it || The hoopla over Kiraly's pants
•Matchday 6 recap: It can be a cruel game at times || What was Deschamps thinking?
•Matchday 7 recap: English relief after beating Wales || You gotta love Northern Ireland
•Matchday 8 recap: Spain sends a message
•Matchday 9 recap: Ronaldo cuts a distraught figure
•Matchday 10 recap: Albania has held its own || In defence of Ronaldo
•Matchday 11 recap: Slim margins could doom England || What is England? Does Hodgson know?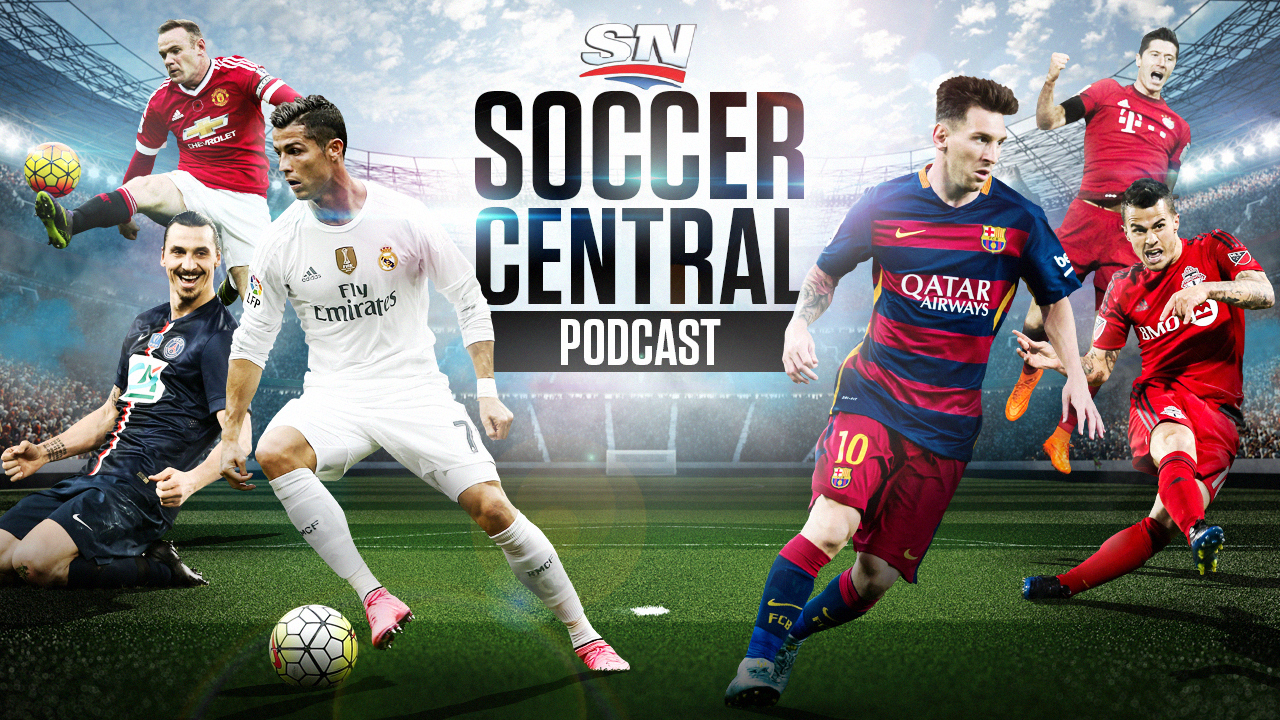 Sportsnet's Soccer Central podcast (featuring Thomas Dobby, Brendan Dunlop, John Molinaro and James Sharman) takes an in-depth look at the beautiful game and offers timely and thoughtful analysis on the sport's biggest issues.