Here's what happened on Saturday on Matchday 15 of UEFA Euro 2016 in France, in case you missed it…
THE RESULTS
• Match report: Switzerland 1, Poland 1 (5-4 shootout win) in Saint-Etienne || Match stats
• Match report: Wales 1, Northern Ireland 0 in Paris || Match stats
• Match report: Croatia 0, Portugal 1 in Lens || Match stats
THOUGHTS ON THE DAY
Polish play a dangerous game: Poland has been the best team—from a defensive standpoint—at this tournament, having not been breached until Saturday after recording three clean sheets in the group stage. Michal Pazdan has been marvellous in marshalling a Polish defence that has given away very little, and managed to blank the Germans. Poland has been defensively well-organized, and difficult to break down. But Saturday was much different than their three earlier performances, with the Poles effectively closing up shop after Jakub Blaszczykowski scored in the 39th minute.
After taking the lead, Poland dropped back deeper and deeper, inviting Switzerland to come at them—unlike how they played against Germany when, even at 0-0, they actively tried to score while at the same time keeping it tight at the back. How uninterested was Poland in going forward against the Swiss? Consider this: they didn't register a shot on target after the 53rd minute for the rest of the match. They nearly paid the ultimate price for adopting this ultra-defensive posture, with Xherdan Shaqiri's spectacular equalizer giving Switzerland some hope before losing in a shootout. Poland got away with it—this time. Next time, they might not be so lucky.
Wales wins. Meh: Wales booked its place in the quarterfinals with a win over Northern Ireland in a dire game that was low on quality and entertainment value, and was played out between two average sides.
Northern Ireland showed great spirit in getting out of the group stage, but you simply can't overlook the fact they benefited from the expansion of the tournament as one of the best third-place teams. Like Northern Ireland, Wales has been pretty average in France—Gareth Bale, aside—and has fortunate to have been matched up against favourable opponents. The Welsh haven't been tested by a top, quality side yet, so it'll be interesting to see how they do against some stiff competition as the tournament progresses.
Dreadful game to cap off a dreadful day: I'm sure like most of you, I had Croatia vs. Portugal circled on my calendar. Croatia, in my estimation, was the best team in the group stage, and Portugal, despite its three draws, is capable of playing breathtaking football. With players the calibre of Cristiano Ronaldo, Ivan Persisic and Luka Modric on display, this promised to be a good one. My expectations didn't come close to matching the quality of the product, though.
This was a dreadful game. Dour and tame, it was one of the worst matches in the history of the European Championship, a shocking development when you consider the teams involved. This was a bore-fest, a wretched contest marred by players who looked timid and afraid to take chances—the first shot on target, from Ronaldo, didn't take place until the 117th minute. A second later, Ricardo Quaresma scored the winner on an easy tap in.
There was no hint of counter-attacking in this game, as both teams played it safe and decided not to force the issue. Robbed on service, Ronaldo was, nevertheless, conspicuous by his absence, as he didn't seem terribly interested in spicing things up with his special brand of magic. We've been blessed with some pretty entertaining soccer at Euro 2016. We were due a stinker like today, I guess. Portugal vs. Croatia capped off a truly forgettable day in France.
---
MORE ON EURO 2016: Sportsnet has you covered with in-depth coverage of Euro 2016 in France, which runs from June 10 to July 10.
• Match schedule || Group standings || Live scoreboard || Latest news
• Profiles: All 24 teams || History of Euro || Top 10 moments in Euro history
• Feature stories || Soccer Central podcast || Team roster lists ||
---
GOAL OF THE DAY
In the 82nd minute, a Polish clearance looped high in the penalty area and came down on the edge of the box where Switzerland's Xherdan Shaqiri hit a spectacular volley on an overhead kick that nestled in the upper corner. A goal of the tournament candidate.
SAVE OF THE DAY
In the 74th minute, Polish goalkeeper Lukasz Fabianski expertly tipped Ricardo Rodriguez's free kick over the crossbar to rob the Swiss of a sure goal.
MATCH OF THE DAY
You have to be kidding.
BEST MOMENT OF THE DAY
Gareth Bale celebrating Wales' win on the pitch after the game with his daughter:
THE GAME WITHIN THE GAME
TWEET OF THE DAY
HE SAID IT
"We knew it was going to be an ugly match. Obviously no disrespect to Ireland, but they make it difficult to play [against]. We knew up top we weren't going to get a lot of the ball. There's not much space." – Gareth Bale
SIX PACK OF STATS
• Jakub Blaszczykowski is the first Polish player to score in consecutive games at a major tournament since Zbigniew Boniek at the 1982 World Cup.
• Switzerland's Xherdan Shaqiri on Saturday scored his first goal in a major tournament since his hat trick vs. Honduras exactly two years ago at the 2014 World Cup.
• The here have now been three own goals at Euro 2016, more than any other single European Championship tournament.
• Northern Ireland on Saturday scored an own goal for the first time since October 2011, which was also scored by Gareth McAuley (vs. Italy).
• Nani is the fourth Portuguese player to reach 100 caps, after Cristiano Ronaldo, Luis Figo and Fernando Couto.
• Portugal has reached the quarterfinals of the European Championship for the sixth time, more than any other team.
Stats courtesy of Opta
BURNING QUESTION

3 STARS
1) Jakub Blaszczykowski, Poland: Scored the winner, and was solid at both ends of the pitch—creating chances for others and winning tackles to break up plays.
2) Lukasz Fabianski, Poland: He made a number of key and brilliant saves to allow Poland get to the penalty shootout.
3) Ricardo Quaresma, Portugal: Scored Portugal's winner in extra time after coming on as a substitute.
TOURNAMENT SO FAR
•Matchday 1 recap: Magnificent Payet rescues France || Typical Giroud performance
•Matchday 2 recap: England gets what it deserves || Bale already proving his worth for Wales
•Matchday 3 recap: Modric pure magic for Croatia || Germany's Goetze not a false 9
•Matchday 4 recap: Spain's resolve sees them through || Italy's experience the difference
•Matchday 5 recap: Portugal blows it || The hoopla over Kiraly's pants
•Matchday 6 recap: It can be a cruel game at times || What was Deschamps thinking?
•Matchday 7 recap: English relief after beating Wales || You gotta love Northern Ireland
•Matchday 8 recap: Spain sends a message
•Matchday 9 recap: Ronaldo cuts a distraught figure
•Matchday 10 recap: Albania has held its own || In defence of Ronaldo
•Matchday 11 recap: Slim margins could doom England || What is England? Does Hodgson know?
•Matchday 11 recap: Croatia turns tournament on its head ||
•Matchday 12 recap: Ronaldo is just trolling us || England should fear Iceland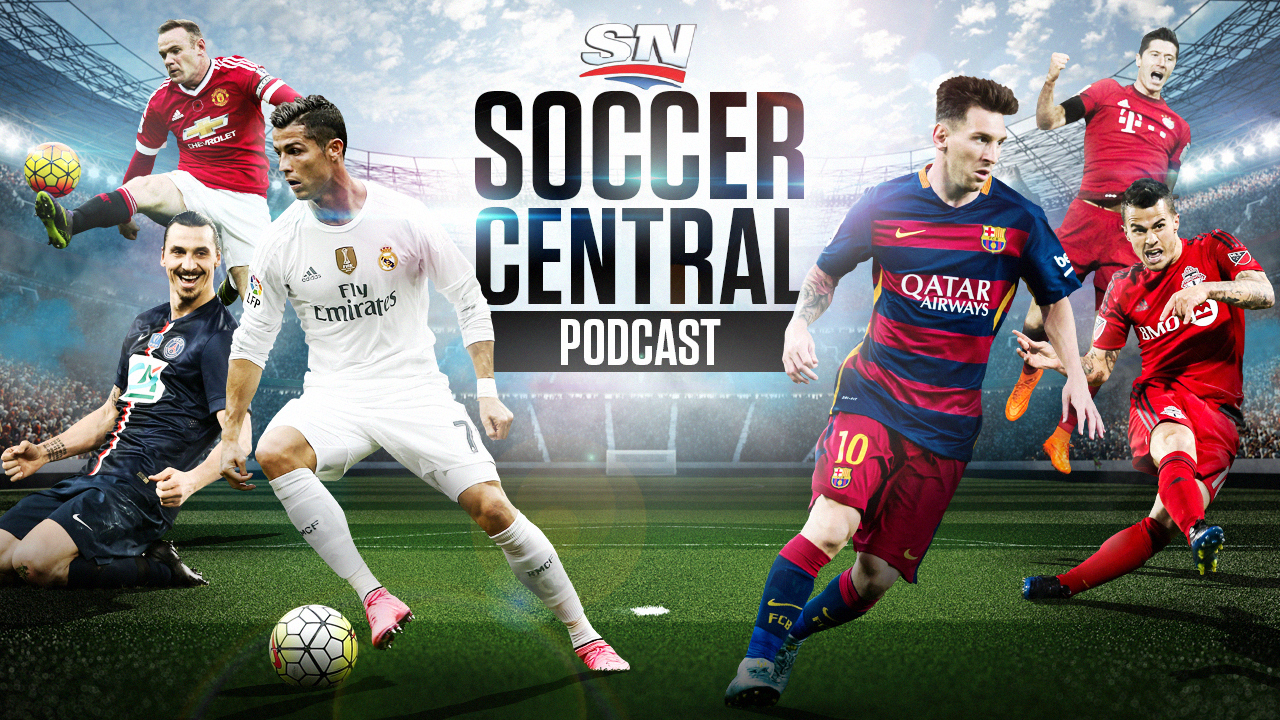 Sportsnet's Soccer Central podcast (featuring Thomas Dobby, Brendan Dunlop, John Molinaro and James Sharman) takes an in-depth look at the beautiful game and offers timely and thoughtful analysis on the sport's biggest issues.