Here's what happened on Sunday on Matchday 15 of UEFA Euro 2016 in France, in case you missed it…
THE RESULTS
• Match report: France 2, Ireland 1 Lyon || Match stats
• Match report: Germany 3, Slovakia 0 in Lille || Match stats
• Match report: Hungary 0, Belgium 4 in Toulouse || Match stats
THOUGHTS ON THE DAY
Gutsy performance from France: Antoine Griezmann's pair of second half goals—one off a powerful header, the other with a fabulous finish just inside the near post—propelled France past Ireland, who took the lead in the second minute and looked as though it would pull off the upset. Griezmann goals, scored just three minutes apart, turned the game on its head, and Shane Duffy's red card soon after all but sealed the result for the home side.
The Irish put in a valiant effort, looking quite comfortable on the ball and asking questions of the French defence. Before Griezmann's goals, Ireland looked a tough unit to break down, frustrating France's attackers and forcing them to take shots from long distances. To their credit les bleus kept chipping away, and their persistence paid off, with their quality eventually emerging in the end to send the Irish packing. Griezmann will grab the headlines, and rightly so. But Blaise Matuidi was fabulous on the day, acting as a midfield general who not only broke up plays, but acted as the key link between defence and attack.
After pretty much cruising through the group stage, France faced its stiffest test and a bit of adversity for the first time at this tournament on Sunday. They hadn't been challenged in the first round, so this was exactly the type of game and result they needed—not an easy win, but rather one in which they had to display some grit against a side that was committed to stopping them dead in their tracks. Didier Deschamps' men showed that they have the mental strength to overcome. They were made to work for it against Ireland, and that will serve them well going forward.
Dominant Germany pounces on mistakes: Germany came in for some unfair criticism during the group stage for not beating their opponents with relative ease. The World Cup champions are always held to a high standard, but even still, it was incredibly harsh to find much wrong with how the Germans played through their opening three matches. That said, there's no question that Germany hadn't hit its top gear just yet. They did on Sunday, though.
Die Mannschaft were positively dominant in dispatching Slovakia with relative ease—the trio of Toni Kroos, Julian Draxler and Mesut Ozil terrorizing the Slovakians and bullying them into submission. With the exception of Spain's 3-0 win over Turkey in the group stage, this was as a professional and clinical display as any team has produced in France. Germany bossed the game from beginning to end, out-passing Slovakia by a wide margin and running them into the ground.
Take nothing away from Germany, who is the only team to have not conceded a goal after four games. They were sensational on the day. It's going to take a special side to beat the reigning World champions, one that is capable of playing a flawless and mistake-free game.
That proved to be beyond Slovakia, who conceded three soft goals. Jerome Boateng's opening strike from a shot outside the penalty area was well taken, but the defender had all the time in the world to get it off. On the second, Draxler skinned Juraj Kucka, who gave up on the play too easily, allowing the German to get to the end-line before setting up Mario Gomez's goal. On the third, Draxler was left unattended at the far post, given the time and space to smash a volley into the roof of the net.
The Germans sent out a not-so-subtle reminder to the rest of the field with this effort—if you want to beat us, you have to be perfect. Make a mistake, and it will be punished.
Is Belgium the new favourite?: It's a legitimate question after the Red Devils booked their spot in the quarterfinals, beating Hungary by the biggest margin so far at this tournament. This was a fabulous performance by the Belgians, who were made to work for this win by Hungarians. When they managed to go up 2-0, they poured on the style and demonstrated they are capable of tearing opponents apart with their quickness.
What an outing by Eden Hazard. The Chelsea man is coming off a poor Premier League campaign, but his efforts in Toulouse this night was reminiscent of the way he routinely played two years ago when he was the best player in the English topflight. With his fleet of foot movement, acute awareness of space and deft touch, Hazard pulled the creative strings and orchestrated an attack that overwhelmed Hungary at times. Hazard needed this to bolster his confidence after such an abject campaign with Chelsea, and Belgium needed him to be at his best in order to beat a tough and talented Hungary.
After a slow start to the tournament, Belgium has come into form. Those questions we were asking about whether they can play as a team, rather than just a bunch of individual stars like they did in that humbling opening loss to Italy, have been answered: They can. Just as important, they're playing their best football at the exact right moment, and with the other top contenders on the other side the bracket, Belgium has a clear path to the final in Paris.
---
MORE ON EURO 2016: Sportsnet has you covered with in-depth coverage of Euro 2016 in France, which runs from June 10 to July 10.
• Match schedule || Group standings || Live scoreboard || Latest news
• Profiles: All 24 teams || History of Euro || Top 10 moments in Euro history
• Feature stories || Soccer Central podcast || Team roster lists ||
---
GOAL OF THE DAY
After pressing for an equalizer, France finally broke Ireland's resolve in the 58th minute. Bacary Sagna whipped a gorgeous cross from the right flank deep into the box where Antoine Griezmann created some space for himself and powerfully headed it home into the bottom corner.
SAVE OF THE DAY
In the 35th minute, Kevin De Bruyne's curling free kick swerved around the wall, but Hungary's Gabor Kiraly managed to get his fingers on it to tip it onto the crossbar.
MATCH OF THE DAY
Don't be fooled by Belgium's four-goal win—this game was closer than the final score suggested. This was an evenly contested side, played out between two attacking sides that went for it.
BEST MOMENT OF THE DAY
Antoine Griezmann's goal celebration:
THE GAME WITHIN THE GAME
TWEET OF THE DAY
HE SAID IT
"I'm not the saviour. The saviour is the team." – France's Antoine Griezmann
SIX PACK OF STATS
• At one minute and 58 seconds, Robbie Brady's goal from the penalty spot is the fastest penalty goal in the history of the European Championship.
• Antoine Griezmann is the first France player to score three goals in a single European Championship tournament since Zinedine Zidane in 2004.
• Including shootouts, Mesut Ozil is the first Germany player to miss a penalty at the European Championship since Uli Hoeness in the 1976 final.
• Mario Gomez is now Germany's joint-top goal scorer at the European Championship (five goals), with Jurgen Klinsmann.
• There were just 94 seconds between Belgium's second and third goals versus Hungary.
• Six of Belgium's eight goals at Euro 2016 have been assisted by either Kevin De Bruyne (3) or Eden Hazard (3).
Stats courtesy of Opta
BURNING QUESTION

3 STARS
1) Eden Hazard, Belgium: A magnificent outing from the Chelsea man, who orchestrated the Belgian attack. Scored one goal and assisted on another.
2) Antoine Griezmann, France: The Atletico Madrid forward was an absolute beast in the second half, scoring both goals to help France come from behind to beat Ireland.
3) Julian Draxler, Germany: The German youngster tortured the Slovakian defence before being subbed off, scoring one goal and setting up another.
TOURNAMENT SO FAR
•Matchday 1 recap: Magnificent Payet rescues France || Typical Giroud performance
•Matchday 2 recap: England gets what it deserves || Bale already proving his worth for Wales
•Matchday 3 recap: Modric pure magic for Croatia || Germany's Goetze not a false 9
•Matchday 4 recap: Spain's resolve sees them through || Italy's experience the difference
•Matchday 5 recap: Portugal blows it || The hoopla over Kiraly's pants
•Matchday 6 recap: It can be a cruel game at times || What was Deschamps thinking?
•Matchday 7 recap: English relief after beating Wales || You gotta love Northern Ireland
•Matchday 8 recap: Spain sends a message
•Matchday 9 recap: Ronaldo cuts a distraught figure
•Matchday 10 recap: Albania has held its own || In defence of Ronaldo
•Matchday 11 recap: Slim margins could doom England || What is England? Does Hodgson know?
•Matchday 12 recap: Croatia turns tournament on its head ||
•Matchday 13 recap: Ronaldo is just trolling us || England should fear Iceland
•Matchday 14 recap: A day to completely forget in France || Shaqiri's strike can't save the day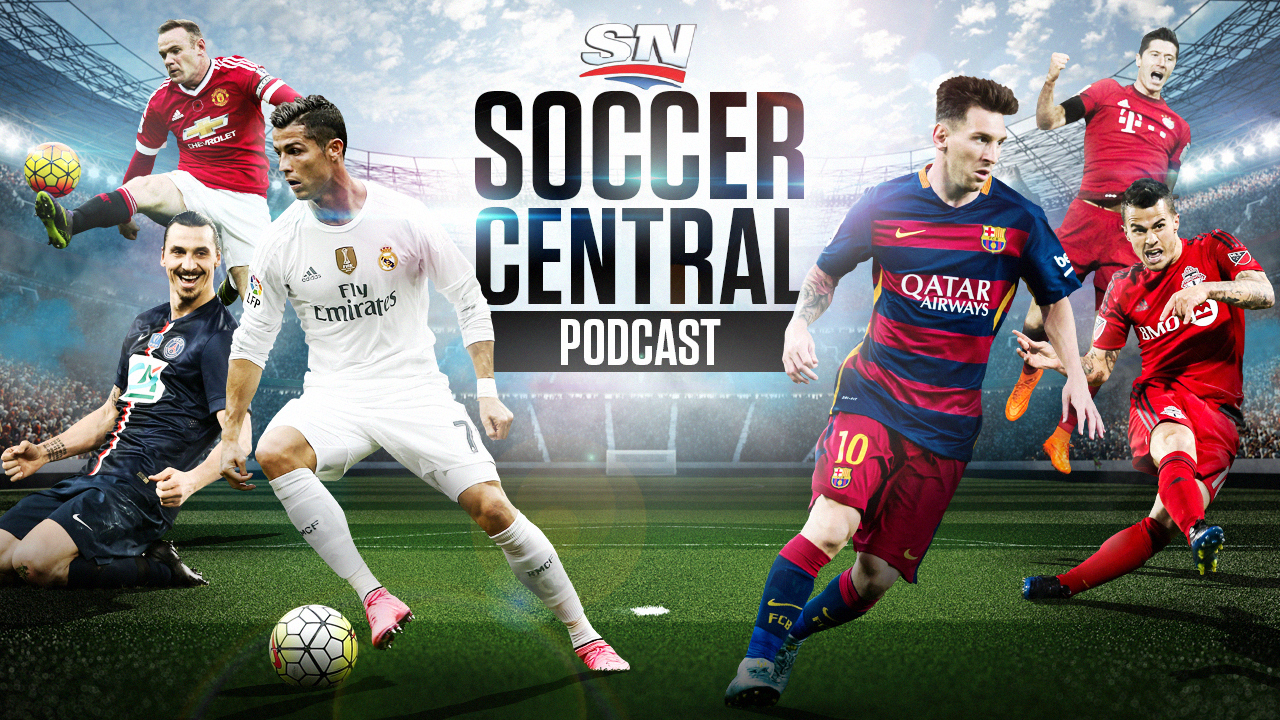 Sportsnet's Soccer Central podcast (featuring Thomas Dobby, Brendan Dunlop, John Molinaro and James Sharman) takes an in-depth look at the beautiful game and offers timely and thoughtful analysis on the sport's biggest issues.